Description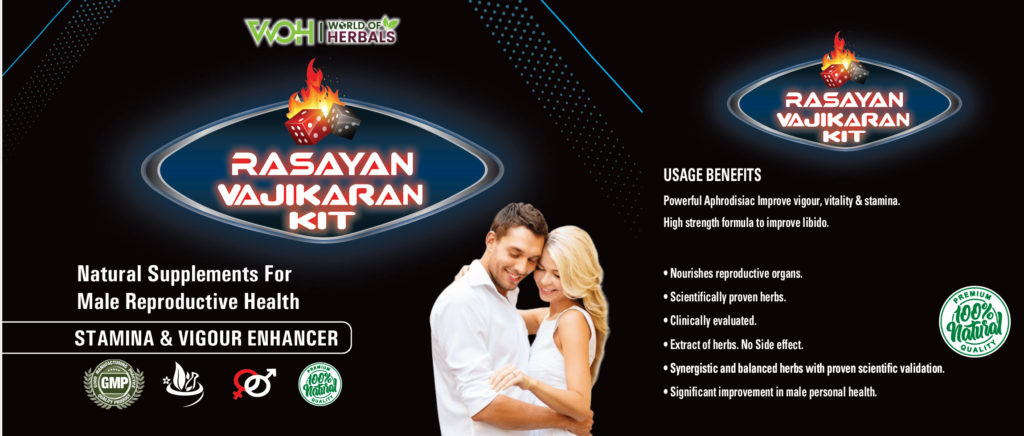 RASAYAN – VAJIKARAN KIT   for Erectile Dysfunction
Rasayan Vajikaran Ayurvedic Kit for Male Sexual Health & Erectile Dysfunction has combination of various precious herbs which are known to be highly effective in improving sexual health of individuals. This kit is derived by our team of expert Qualified Ayurvedic Doctors and clinically we have seen phenomenal results in many cases.
This Kit is enriched with natural herbs and minerals, main constituents are "Sidha Makardwaj, Makardhwaj, Safed Mushli,  Akarkara, Shilajeet, Ashwagandha, Swarnbang, Kwanch beej, shatavri and many herbs and natural minerals. These herbs are very powerful aphrodisiac, improves low libido, weak erection and pre mature ejaculation. These Rasayana and Vajikaran herbs are very effective in male factor infertility, sex weakness in diabetes, Erectile Dysfucntion (ED) as well.
Erectile Dysfunction
This Kit Contains
Makardhwaj Rasayan Shakti 60 Capsuels

Re-Energy Plus 60 Capsules

Rasayan Shakti Granules 300 gm
Ayurveda and Natural products in RASAYANA – VAJIKARANA KIT 
Makardwaj Rasayan Shakti (60 Capsules) Contains
Makardwaj, Safed Mushali, Akarkara, Shilajeet, Ashwagandha, Swarnbang, Kwanch beej, which are herbo mineral formulation used in Ayurveda for its aphrodisiac and rejuvenating properties. Helps in Erectile dysfunction, low libido, oligospermia, week erection.
RE-ENERGY PLUS (60 Capsules) contains
Powerful herbs which are daily need for men. These herbs compensate the loss of semen during sexual activities and provides extra energy and nutrition to shukra dhatu. Sidh Makardwaj, Shatavari, Tribulus, Jaiphal, Lavang, Kehsar and Talmakhana, these are herbo mineral formulation used in ayurveda for its providing strength, erectile dysfunction (ED) and premature ejaculation.
RASAYAN SHAKTI GARNULES Contains
Rasayana can be understood as nutritional dynamics for rejuvenation of body and mind. Ayurveda considers that there is natural process of degeneration which leads to aging and health issues. Rasayana herbs helps in preventing premature aging, detox body and making healthy way for individual to perform all the activities with extreme energy.
Rasayana herbs includes – Asparagus, Trikatu, Mucuna, Tribulus, Chopchini, Salam Mishri, Shatavari, Sheetal chini , Tavashir. These are powerful Rasayana herbs which helps to keep your body healthy.
If you want to buy or you have any questions regarding Rasayan Vajikaran Kit for Erectile Dysfunction and Sexual health. You can contact us. Dr. Amit Dutta is Director and Chief Ayurvedic Consultant of Ayur-Sudha Ayurvedic Centre Jalandhar, Punjab.  If you are looking for best Ayurvedic Medicine in India for ED, Erectile Dysfunction, Premature Ejaculation, Sex Weakness in diabetes, weak erection you can contact us.
Order your " RASAYANA VAJIKARANA KIT"  Now,
One Month Supply- In INDIA -INR. 9897/-(With Post in India )
Outside India – 190 USD with Packing & Postage.
WhatsApp –  +91-98033-56060
                     +91-98030-39369